One of the best things about living in North Central Washington, and in the Lake Chelan area in particular, is the that we have four distinctive seasons – Spring, Autumn, Winter and my favorite Summer, which is just around the corner, where the temperatures, already beginning to warm will begin to become downright summer like, and the nights will extend, until the summer equinox in mid-June.
One of the challenges that many home owners have, is during the summer months, when the house warms up, and there is a bussle of activity outside, what do we do with our fireplace, and hearth, most often times found at the center of our home? Do we just leave it to collect dust, seemingly forlorn and alone, or do we take full benefit of the center piece that it is and accentuate it's beauty? If you are thinking about showing your property, then there is no doubt what the right answer is – you must dress it up and make it the accent piece that even in the summer can bring your room to life and offer a renewed vitality to your room.
One of my favorite recently published articles in Houzz, 14 Ways to Style Your Mantel for Spring and Summer has some great ideas and pictures that really demonstrate how effective dressing up your fireplace can be. My favorite is shown below and shows just how easly it can be. In this case the strategic placement of a large houseplant accented by floral arrangements, either fresh or silk on either side on the mantel.
This simple yet elegant treatment really brings life to the room, and will reinforce the value of the property.
I have mentioned a couple of times over the last several months that the housing market in the Lake Chelan area is definitely on the rise. If you are thinking about selling your property, please let me know, as I would be honored to help you sell your home. You can contact me on my cell (509) 679-1941 or by
e-mail
.
I know what you are thinking, a realtor telling you that now is a good time to buy a home in Lake Chelan, when wouldn't they say it was a good time to buy. The reality is, no joke, it is a great time to consider purchasing a house in Lake Chelan right now and here is why:
Interest rates on fifteen year mortgages are the lowest that they have been. Just this week, they hit a record low of 2.56% down from 3.07 a year ago, and equally importantly…
House prices are on the rise, and available inventories are shrinking, in most major markets.
That's true for the Lake Chelan area, particularly if you have your heart seat on high demand lakefront or waterside property. And who wouldn't want to live in Lake Chelan, if you could wake up to scenes like these every morning: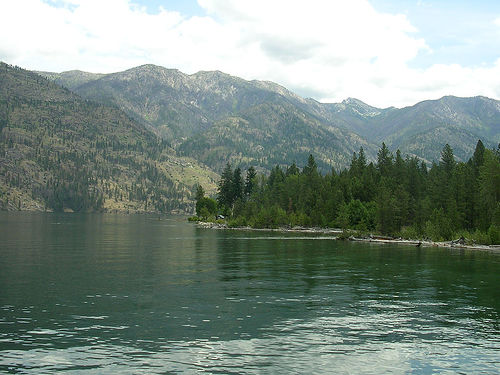 Imagine sitting on the sun deck reading a novel and sipping a fresh latte. Life doesn't get much better than that. And with 300 days of sunshine, your dream can easily become a reality. It sure beats, the grey, rainy days that many Washitonians endure. With the change in work habits, and excellent high speed internet services, you can live and work, in the idyllic beauty of Lake Chelan.
I have worked with many couple who have wanted to find balance in their lives and crave the warmer, sunnier environment that the Lake Chelan region has to offer. If you give me your hit list, I will come back with a list of properties that will delight and surprise you. Come live the life you've always dreamed of here in Lake Chelan.
This is a picture taken from the foothills overlooking Lake Chelan. You can see how beautiful it is here, and why so many people consider either moving to this area, or purchasing a second property here. Lake Chelan is my home, and I have been in business of finding people their dream property for over 20 years now.
It is not just the gorgeous hillside vistas, or the glacier feed lake, or the full range of outdoor activities that are available in the Lake Chelan area that make it one of the most sought after real estate markets in Washington, it's the small town, and neighborly greetings, that make Lake Chelan an idyllic place to live. Did I mention the weather? Lake Chelan has over 300 days of sunshine a year; a record for Washington state, and in the summer months there is less than an inch of rainfall a month.
I excel at finding properties that tick all the boxes on my clients wish list – from bedroom size, to amenities, waterfront, garden style and so much more. I would love the opportunity to take you a tour of properties that I have hand picked for you. As a registered agent I have access to all the properties available in the Lake Chelan market and will find just the property that meets your needs.
I look forward to meeting you and showing you all the best that Lake Chelan has to offer.